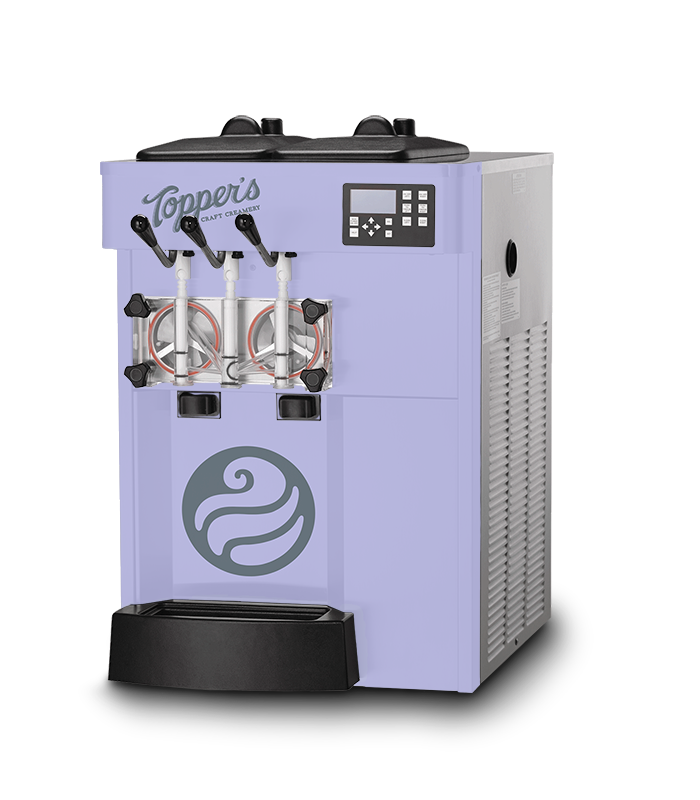 We making complementary branding easy. We provide a turn-key soft serve set up with everything you need, like Starbucks does with their "We Proudly Serve" solution.
The soft serve addition can be full serve or self-serve; and stand on its own, or as part of a premium dessert bar offering.
Initial set-up and installation is $2,500, then a monthly lease payment of $475. No additional payments required.
We service the machine. If anything happens, you just call us, and we send out a tech to get things back up and running, usually same day.
The agreement is very simple and much like adding a fountain soft drink.
Our proprietary soft serve frozen custard mix and necessary supplies can be set up with your current distributor. 
ADDING SOFT SERVE IS SIMPLE
This short video shows how easy it is to add our turnkey solution in just 4 linear feet of space.
LEASED EQUIPMENT ALL-IN OFFERING
The cost analysis tables below are a conservative projection from Topper's Craft Creamery (as an added complementary brand), based on some of our current partners' unit volume. Use them to project your added sales benefit when adding Topper's Craft Creamery and call us for further financial projection assistance. The green-shaded cells can be changed to reflect your own estimated values.
INITIAL SET-UP/DEVELOPMENT FEE:                          $2,500.00 (5 year term)
Includes new (or reconditioned) single flavor soft serve machine plus smallwares, Grab n' Go (pre-made sundaes with lids) freezer and other required operational materials.
ADDITION OF TWIN TWIST MACHINE:                          +$1,500.00 (initial and $100/month)
(1) COGS: Includes sampling and waste.
(2) Incremental added labor of $50 per month; though often there is little or no added labor.
(3) $100/month estimated for electric and R/M.
Note: your sales may vary, and profits may be higher or lower based on operator.
WHAT OUR COMPLEMENTARY BRAND PARTNERS ARE SAYING
"Toppers Craft Creamery continues to delight our guests at the Renaissance Orlando at SeaWorld. From the first smell of the home-made waffle cones, through the creative flavors and high rated service experience, our guests tell us that Toppers is really a 'sweet' surprise in our hotel, for kids and adults alike."
-Ron Reinhold | Director, Sales and Marketing Renaissance Orlando at SeaWorld
"The Rosen College of Hospitality Management, University of Central Florida, values relationships with business partners. As a faculty member, who has worked with the Topper's Craft Creamery Group for the past four years, I have found the entire team to be the epitome of strong communication, integrity, enthusiasm and reliability – qualities seldom found these days!"
-Michael "Doc" Terry. Instructor, UCF Rosen College of Hospitality Management.
International Consultant, and former executive in billion dollar hospitality brands.
"Our guests say that the ice cream is rich and creamy; and they love seeing the vanilla beans."
-Thomas Lenworth; (former) Director of Food and Beverage; Best Western Disney
"Our Food Service Department has teamed with Toppers Craft Creamery and we can say that our partnership could not have run smoother. Greg and his Team have set up, trained and followed thru with us along the way. We are excited to have this opportunity and look forward to increasing sales revenue and adding a great tasting product for guests to enjoy."
-Ray Vereb, Director of Food and Beverage; Dolphin Tale Adventures, Clearwater Marine Aquarium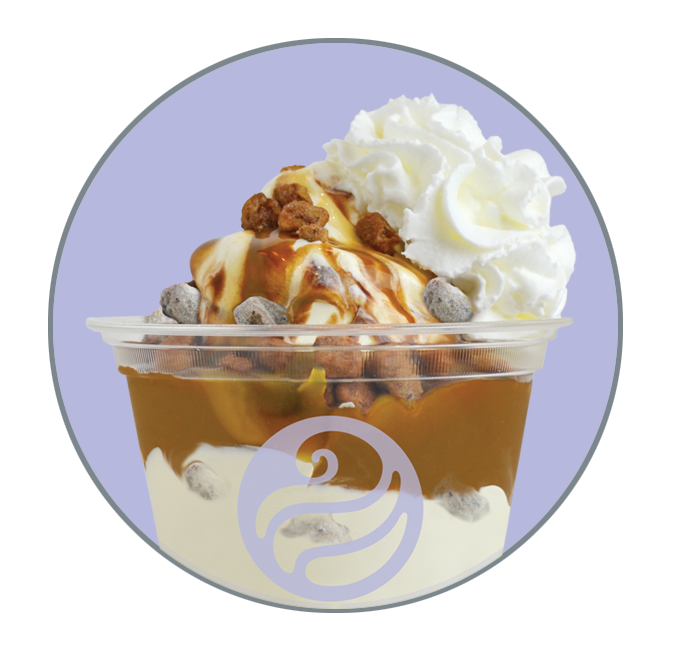 The addition of a complementary brand will allow you to improve your labor efficiency by adding more top line sales in your existing space in a simple and profitable low risk addition.
People love one stop shopping.  If you add a crafted dessert that is unique and distinctive, it enhances your brand perception, and allows for you to become an even better value in the eyes of your customer.
SHOULD I ADD A COMPLEMENTARY BRAND?
Implementing something new may be risky. But it could also be very lucrative.
Adding a complementary brand is not one-size-fits-all. Through our experience with a variety of partners, we've learned the specifics of what is necessary to have in place to ensure the most lucrative results. Take our 10 question assessment to see if a partnership with Topper's Craft Creamery is a good solution to your sales goals.